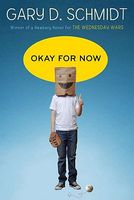 First things first. Gary Schmidt is my literary hero, so this review is biased. I'm just letting you know, so going into this you realize I'll be encouraging you to buy the book or check it out from your local library (if your library still exists), even if it were to be an awful book. Lucky for both of us, it's awful alright. Awfully freaking good.
Borrowed (Stolen) from the publisher:
As a fourteen-year-old who just moved to a new town, with no friends and a louse for an older brother, Doug Swieteck has all the stats stacked against him. So begins a coming-of-age masterwork full of equal parts comedy and tragedy from Newbery Honor winner Gary D. Schmidt. As Doug struggles to be more than the "skinny thug" that his teachers and the police think him to be, he finds an unlikely ally in Lil Spicer—a fiery young lady who "smelled like daisies would smell if they were growing in a big field under a clearing sky after a rain." In Lil, Doug finds the strength to endure an abusive father, the suspicions of a whole town, and the return of his oldest brother, forever scarred, from Vietnam. Together, they find a safe haven in the local library, inspiration in learning about the plates of John James Audubon's birds, and a hilarious adventure on a Broadway stage. In this stunning novel, Schmidt expertly weaves multiple themes of loss and recovery in a story teeming with distinctive, unusual characters and invaluable lessons about love, creativity, and survival.
In Okay for Now
, Gary D. Schmidt walks a tightrope and performs a splendid balancing act, giving ample weight and consistency to numerous themes and issues: a sense of belonging, family relationships (abusive father, but presented appropriately), community, starting over and fitting in, love, humor, and creativity, specifically drawing and writing. The voice is (to use the ubiquitous publishing term) "spot-on", and most of the characters feel three dimensional, the lone exception being Doug's father's best friend, Ernie Eco.
This character sees little page time, and throughout most of the story he looms as the dark shadow of Doug's father. However, as Doug's father's most patronizing influence, Ernie Eco indirectly demoralizes Doug's hopes for a decent paternal presence.
Schmidt is a master of many writing techniques. He breathes life into his settings. He elevates sarcasm to a high, but comfortable, level. He takes the ordinary object and makes it invaluable. He leans on the use of repetition to create voice. Overall, he is one of my favorite writers and storytellers, because he has so much to say but says it succinctly and effectively. Sometimes reading a book can feel like chewing on a piece of fat, but with Schmidt it's like riding in the passenger's seat with the window down while a cool summer breeze kicks your hair back.
Some highlights in the book are: John James Audubon's bird plates, which begin each chapter and which Doug Swieteck becomes obssessed with, the sporadic use of the one-word sentence "Terrific," which elevates Doug's sarcasm and which Doug later uses in a positive sense, Doug's consistent recollection of wanting to punch the poet
Percy Bysshe Shelley
in the face, Doug's relationship with a girl named Lil Spicer and the relationships he eventually forms with several adults, a common theme in middle grade (and upper middle grade) fiction.
As a life-long baseball fanatic, there is one "error" in the book:
"You imagine that it's Game Seven of the World Series and the Yankees are playing the Red Sox."
This one slipped by an editor, because the Yanks and Sox are both American League teams and are unable to play each other in the World Series. Ever. It should've been corrected to something like "...Game Seven of the American League Pennant" *
Note: I read the ARC, so this may have been changed in the final copy. I'll double check to be fair.
In
Okay for Now
, Schmidt provides another example of how setting, voice, and character can drive story and make it come to life. Those are, after all, the key elements in fiction, but Schmidt has a way of emphasizing each element while making it look (and feel) easy. Though this book is technically historical fiction, Doug Swieteck's first person account will certainly relate to today's tween readers and keep them turning pages.